National Day Golden Week Sees a Record High in Tourism in Lanzhou New Area
www.lanzhou.cn
2019-10-12 10:45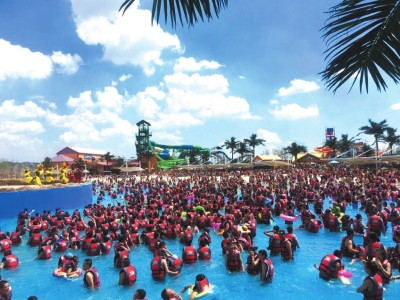 During the National Day Golden Week in 2019, there was an explosive growth in the tourism market in Lanzhou New Area, evidenced by a new record high of received tourists – the visits exceeded 156,400, a growth of 35.4% year on year. The New Area reaped in a comprehensive tourism revenue of RMB53,394,300, an increase of 34.1% year on year.
During the National Day Holiday, the various scenic spots in Lanzhou New District successively planned and launched a series of promotion/discount policies and special events in order to further enrich and guarantee the supply in the tourism market. These included "Repurchase at Deep Discount/Cosplay Show" at West Dinosaur Park; "Growing with Motherland" simulated military parade at Blue Sky City Children Occupational Experience Education Center; "Longyuan Green in Spring – Show for People at Scenic Area" at Qingwangchuan Folk Culture Village; "Inspiring Inheritance of Classics" Taiping Drum Culture Show at Incubation Building. These unique festive events received positive comments from all tourists. There were special attractions, such as boutique discount store Centennial Outlets, Champion Imports Wholesale Center, West Dinosaur Park Hot Spring Holiday Hotel, and "Slow Life" Meiyuan Eco-park; as ideal destinations for short tours, they are attracting more and more tourists.
According to statistics, self-driving travels and family travels were dominant during the Golden Week, with the former accounting for about 80% of visits to all the scenic spots. The tourists were increasingly younger, most of them aged from 20 to 45. To ensure travel safety during the holiday, the Bureau of Commerce, Culture, and Tourism of the New Area organized the involved enterprises in eliminating hidden risks and making improvements for work safety in the tourism industry; they strictly followed the rule of being duty round the clock, regularly published information on travels and transportation, safety, weather, and so forth, and reported on time tourism statistics and the situation on the tourism market during the holiday, to ensure the safe, stable, and orderly operation of the tourism market.