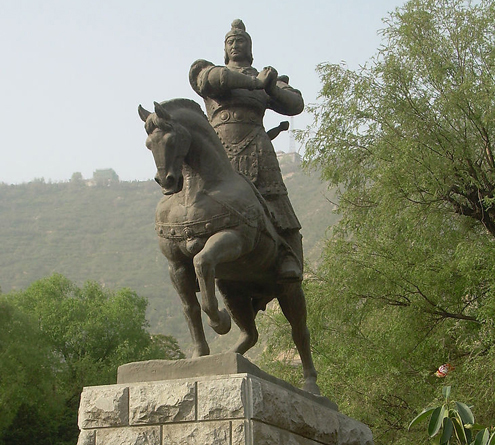 The Statue of Huo Qubing [File Photo]
Huo Qubing (140 B.C.–117 B.C.), born in Linfen, Shanxi, is a renowned military strategist of the Western Han dynasty under the reign of Emperor Wu Di. He is the nephew of another famous general, Wei Qing. Huo boasted a good command of various martial skills like horsemanship, archery and swordsmanship.
At that time, wars frequently broke out between the Western Han army and the Hun ethnic group. Huo's uncle Wei Qing made great battle feats by leading troops to fight the Hun. In the spring of 121 B.C., Huo conquered the Huns at the Hexi Corridor. When his troops passed through Lanzhou, they camped out at Gaolan Mountain, but couldn't find the water source to cook. Legend has it that Huo whipped the hills five times after which five springs emerged. Those springs have since never dried up and this is the origin of the current Five Spring Mountain.
Huo died of illness at the early age of 24 in 117 B.C. Emperor Wu Di of Han ordered the construction of a Qilian Mountain-shaped tomb for Huo right beside his own mausoleum. The tomb has been kept intact to this day.