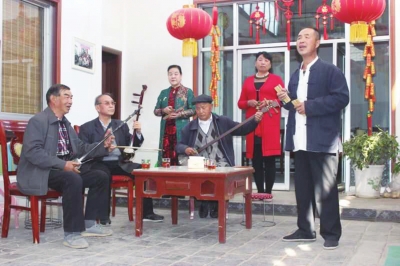 In Dunhuang, the most famous artist of Dunhuang folk songs is 58-year-old Chen Zheng Qing and her elder sister Chen Xiufang who is 66 years old. Since young, they have sung Dunhuang folk songs with their father for 40 years. Dunhuang folk song is their most important spiritual pillar. In 2012, they were recognized as provincial inheritors of Dunhuang folk songs. On September 3rd, the reporter met them who were singing on the stage in Yueyaquan Town at the foot of the Mingsha Mountain of Dunhuang.
Chen Zhengqing is a farmer of Zhongqu No.1 Group, Yueyaquan Town, Dunhuang. His elder sister Chen Xiufang lives 20 kilometers away in Tuta Village, Guojiabao Town. To inquire about the tune of a folk song in a Quzi Opera, Chen Xiufang rode an electrically operated tricycle to her brother's home early in the morning.
In the interview, the reporter learned that Chen Zhengqing's father Chen Fu was the 5th generation inheritor of Dunhuang Quzi Opera. "Before applying for the title of intangible cultural heritage, Dunhuang Quzi Opera and Dunhuang folk songs are indistinguishable. The various tones of Dunhuang Quzi Opera originate from Dunhuang folk songs." Chen Zhengqing said that his father could sing the majority of the classic Dunhuang Quzi Operas, even the difficult Beigongdiao and Kudaoqing.