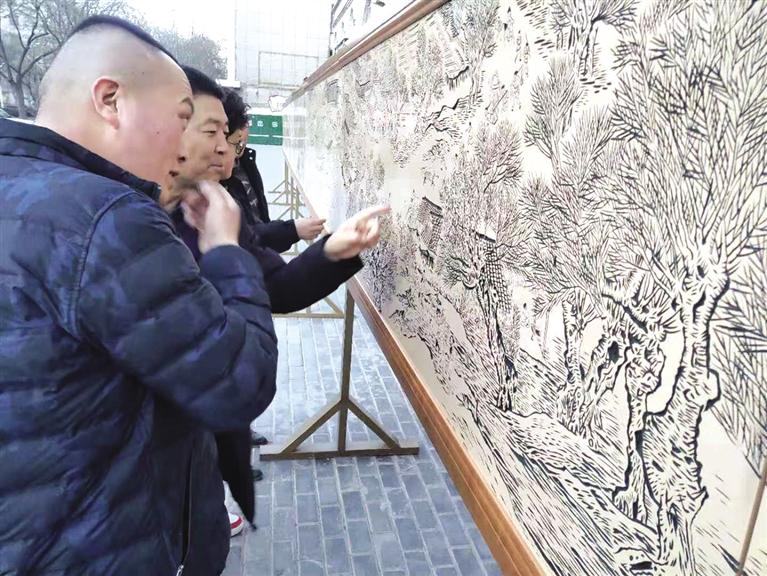 On January 21st, the full version of the woodcut "Riverside Scene at Qingming Festival", which is 19 meters long and 0.91 meters wide, was displayed in Wuwei. It was created by An Wenyu, a Wuwei folk manual calligraphy woodcutter. The figures, trees, pavilions, wooden boats, water flows and livestock in this woodcut work were meticulously carved, which were lifelike and vivid, and exuded the charm of the Riverside Scene at Qingming Festival.
An Wenyu, a 50-year-old native of Wuwei, has been obsessed with traditional woodcut since childhood. When he was young, he used to be a machine tool worker. In his spare time, he carved the calligraphy by Lin Zhongyang, a famous calligrapher, which was permanently collected by a hotel. This made him want to devote his entire life to woodcut. Since then, he has devoted himself to studying woodcut art and started his career as a woodcut artist. In order to improve his skills of woodcut, he visited many famous woodcut masters all over the country and studied woodcut skills assiduously. He has carved hundreds of woodcut calligraphy plaques for enterprises, hotels and guesthouses in Lanzhou and Wuwei, and later became a full-time woodcutter of the "Dragon" calligraphy by the famous calligrapher Wang Guowen, which helped him gradually gain fame.
An Wenyu's woodcut works are vivid and unique. He skillfully integrates skills, humanities and art to create a large number of precious pieces of woodcut calligraphy. In 2017, at the suggestion of Wang Hong, a sculptor in Wuwei, An Wenyu decided to create the manual woodcut work of Riverside Scene at Qingming Festival. With the help of Mr. Wang Hong, after 4 years of hard work, he finished the huge woodcut work in May 2020.
According to reports, the scenes of the woodcut version of Riverside Scene at Qingming Festival is exactly the same as those in the original painting. The work was carved on an oak board. After being carved with carving knife, it needed post-maintenance to have the same artistic effect of the original painting. An Wenyu said that to make this work better, his right hand had nearly deformed and he had become ill. But when he saw this excellent artistic work, he felt it was worth it.
  《
Riverside Scene at Qingming Festival is one of the top ten famous paintings in China. It is a masterpiece that depicts the folk life of Bianliang, the capital of Northern Song Dynasty. It is the only surviving masterpiece by Zhang Zeduan, a painter in Northern Song Dynasty.